Hello my lovelies!
If you've read my
"best of 2009" list
, then you already know that my personal favourite product that eliminates ALL traces of eye make-up is (so far) the Yves Rocher Bio-specifique Active Sensitive, which has a gel-based formula. But, due to my compulsive-buyer syndrom, I'm constantly switching products- whether I like them or not. Yeah, that's me...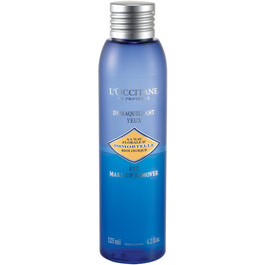 Currently I'm using the Immortelle Eye Make-up Remover from l'Occitane (by the way, if anyone knows how to pronounce "Occitane" correctly, please let me know!), which works o.k., I guess... It is a dual-phase liquid, meaning that one part is water-based and the other oil-based, and the principle behind this is to shake them together, thus removing any kind of eye make-up.
Well, the impressive thing about it is that it takes quite some time for the liquid to separate, which is good if you don't like shaking the bottle every now and then- me, I like ;)
But... that's about it, I wasn't impressed with it.
Now comes the "fun" part; a couple of days ago, I came accross
this post
by BritishBeautyBlogger, where it stated that "...oils cause the lash bond to deteriorate".
And then it hit me, bam! (instant beauty alert)
That must be why I've been losing so many eyelashes lately.
As a matter of fact, I've previously had a small research on the web for the appropriateness of oils used in the eye area, and the opinions I read were ambiguous, to say the least.
Don't get me wrong, I'm not suggesting to stay away from oil-based eye make-up removers, since there isn't any scientific evidence on the subject. Personally, I will probably skip the l'Occitane cleanser and try a water-based one. I was thinking of Kiehl's, we'll see...
Recommendations are always welcome :))
Happy blogging and reading and commenting to everyone!
CBSG5861